French school leader conference 2019
Dates : from Thursday, Oct. 31 to Saturday, Nov. 2.
Location : Château de Saint-Albain - 71260 Saint-Albain (between Tournus and Mâcon).
Theme
Keys to dynamic governance in our schools
Efficiency and harmony between the governing board and school leadership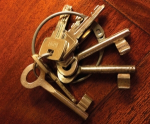 The 16th ACSi Seminar for Directors and Trustees of Christian Schools will take place at the Château de Saint-Alain. The theme will be keys to dynamic governance in our schools.
In Christian schools, vision and pedagogy are in place, but governance often needs to be consolidated or even rebuilt. Schools and new projects must ensure that decision-making and executive bodies are clearly defined and granted to work harmoniously and effectively, in order to sustain our schools while developing them.
Board committee chairs and directors will be involved in interactive workshops around the principles of governance in many schools in the Francophone region and beyond.
• Spiritual counselors will be available for individual sharing.
• School teams are strongly encouraged to participate (1-2 people per project).
• Please register as soon as possible as space is limited. Registration deadline: October 11th.
Themes:
Committee-Management Collaboration: vision, values, mission, articulation and sharing of tasks, functions and roles.
Responsibilities and respective margins of decision, communication in both directions.
Team conduct: organization, forms of leadership, conflicts (forms and management), negotiation. Motivation and commitment.
Practice analysis: study of concrete cases related to the issues raised by the participants (according to the Gease method).
Speakers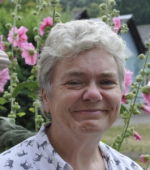 Professor and researcher in the social sciences, Ms. Véronique Haberey holds a Ph.D. in philosophy of education, a Masters in management of health and social organizations, and a university training in theology. She borrows from these different disciplines to study dynamics of teams, to provide avenues for reflection and to promote human and spiritual formation.
Married, mother of 2 children, she is president of the association ROC, manager
from Daniel Private School.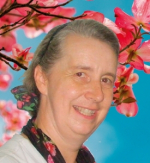 Ms. Martine Audéoud holds a PhD in Philosophy in School Leadership and Administration, and a Ph.D. in Practical Theology in Urban Missiology and Transformational Leadership. She has spent thirty-five years abroad, mainly in French-speaking Africa and Haiti. Dean of Bakke Graduate University, her passion is to serve and train ever more effective leaders in their organizations.
Married with two children, she is also a pastor ordained by the Mennonite Church of the United States.
Practical information and registration
Please download the seminar brochure (in French):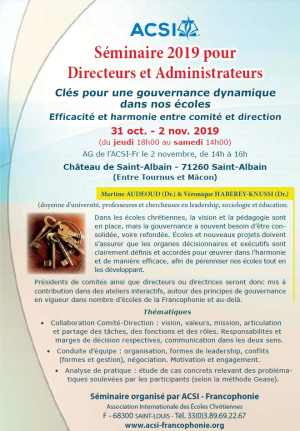 Conference Location
Evangelical Protestant Christian meeting center located in a charming village, the
Château de Saint-Albain
is frequented by many churches, groups and individuals throughout Europe.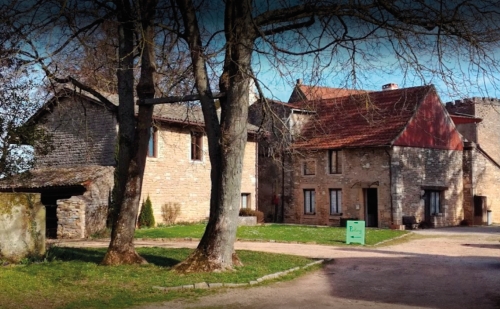 ---