Highlights - October 2017
A report on SLC 2017, a new publication and October events at ACSI Europe
Dear ACSI Europe Friends!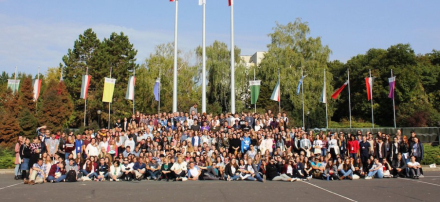 At the end of September 372 participants gathered in Hungary from all corners of Europe, and beyond, for the 19th annual Student Leadership Conference. They all came with the desire to learn more about Christian leadership principles and service opportunities. The five plenary sessions and small-group discussions focused on the theme of "Leading with Wisdom". Three workshop sessions provided help for all the participants to grow in their faith, identify their leadership potentials, and to inspire them to commit to the journey of becoming a godly leader.

WE THANK YOU FOR YOUR PRAYERS for this important event. All the speakers were amazed by the quality and maturity of the students who attended this year's event.

The 372 participants this event (picture above) were deeply touched by the Lord during this special event. We keep receiving emails from schools and parents with testimonies how this event changed the life of many students.

Here are some student testimonies:
I want to be a better leader and example for others. I want to be someone who walks with God and glorify God in everything I do. I want to follow God's plan and lead others to Jesus.

I was inspired to disciple those who will be taking my place in the future.

I've chosen to try to take more risks and effort when it comes to leadership.

I was excited to learn more about Biblical leadership and I was inspired to apply wisdom much more to how I lead.

During this conference I learned that leadership is totally different than I thought it was, it is also something I can do.
Please continue to be praying for these students as they apply what they learned at the conference in their personal life, and in their school communities.
We are happy to announce that a new book, FIRST THE FOUNDATION! by Dr. Stephen Kaufmann, is now available in the German language. This book provides excellent help for teachers of the Christian schools on how to become a Christian teacher fulfilling their God-given calling.
This book is also available in English, French, Romanian, Hungarian, Czech, and Polish languages. Dr. Kaufmann, professor at Covenant College, GA, wrote this book specifically for the European Christian school teachers after serving these teachers through ACSI Europe for several years.
We continue to praise the Lord for the Christian school movement in Romania. In October, Christian teachers gathered from many Christian schools in Bucharest for the Regional Teachers' Conference. The theme of the conference was "Teaching for Heart and Mind". It was a blessing to share with teachers about what it takes to reach both the heart and mind of our students to bring about a transformational experience.
ACSI Europe also held two conferences for early educators in October, one in Budapest, Hungary, and one in Arad, Romania.
Please pray for:
November 5-12 - School Services Trip in Latvia and Lithuania. Laci Demeter and Leslie Johnson will visit several Christian schools in the Baltic countries learning about their needs, meeting and speaking to administrators, teachers, and students. Please pray that Laci and Leslie will be a great encouragement and blessing to the Christian school communities.
November 14 - Laci speaks at Evangelical Forum on Christian parenting.Please pray that Laci will be able to share from his experience in raising their six children in the Lord.
November 20 - Laci meets with Wolfgang R Stock, general secretary of VEBS (Evangelical Christian Schools Association) in Germany. Please pray for this meeting that ACSI and VEBS cooperation would continue to grow for the benefit of the Christian schools in Germany.
November 24-25 - Laci is attending the Swiss Christian Teachers Conference in Zurich, Switzerland.
November 27-29 - ACSI Europe staff meeting in Budapest, Hungary. Please pray for our staff coming together from different parts of Europe to seek God's will and purposes that He wants us to be involved in the coming year.
THANK YOU for your ongoing prayers and support of ACSI Europe's ministry!