Online Training for Students in Leadership
ACSI Europe is providing leadership training to students at several levels, including those who have been participants at our annual Student Leadership Conference...
ACSI Europe would like to provide you with resources as we look at the potential needs of our students in Christian schools. Some of you already have a leadership training program and we congratulate you and encourage you to continue. For those students who do not have opportunities to study and discuss leadership, these are very valuable learning opportunities for them.
M.E.L. - Mentoring Emerging Leaders
The MEL program is ACSI Europe's new service to strengthen and encourage young leaders as they mature in their faith and in their leadership abilities. We are looking for emerging young leaders who have a high level of commitment to identify and develop their leadership abilities, and who are seeking God's will for their life and career. This program will help them grow in their personal walk with Christ, identify their leadership potential, and develop this potential to become a reality for the glory of God and for creating public value in their communities. Learn more about this program and register here.
SLC Online
Registration is also open for the online Student Leadership Course. Each student must complete the registration form to access the online course material. They will receive a certificate after completing all the related assignments. Students must also name a mentor or teacher who will: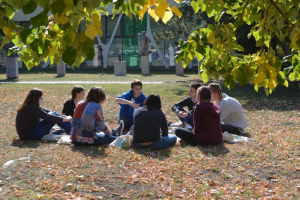 Guide them through the learning process (all materials are availabe online)

Discuss the implications of what they learn

Help them find opportunities to apply what they are learning
Of course all of this can and should be done in your own language so that it has the most impact on your students, schools and communities. The on-line registration must be completed at https://goo.gl/forms/DFdaCkHhukQbtOuq1 and will begin in October of each year, although you are welcome to begin at a different time and follow the course at your own pace. The course is completely online and does not require connection to a live webinar. The course consists of:
a weekly task of reading or viewing a video presentation

completing a written assignment to help students process the information

discussing what they learn with others in an online forum
How can this training help your students?
It gives them a place to continue discussions about Biblical leadership with other youth who are also growing in this area

It sets a course for developing their God-given gifts and using their influence to shape the culture around them

It provides a foundation for understanding who God has made them and His unique calling on their life to serve and lead

It helps to connect them to what God is doing with other people in other schools and countries

It encourages them to form a group in your own school to discuss and apply what they are learning about leadership

It challenges them to communicate what they are learning, which is an essential part of leadership and team building
Thank you for your investment in the young people of your school and your commitment to see them grow into effective, Christ-like leaders!