CSIP Update for October 2022
Thank you for your participation in the Christian School Improvement Platform as we enter another year of learning together! Is is our hope that this tool further inspires us to serve together in each country and language context for quality, Christ-centered education.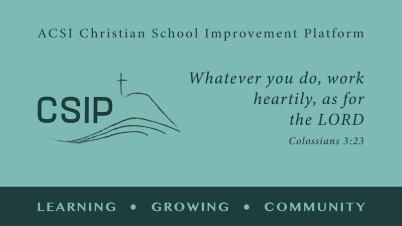 Thank you for trusting us as we learn to collaborate and build for His kingdom. We are using 1 Peter 4:10 as our theme for this year: "Each of you should use whatever gift you have received to serve others, as faithful stewards of God's grace in its various forms." This is a call to be good stewards of what God has given each of us so that our communities can be blessed and come to know our Saviour, Jesus Christ.
Your ACSI membership
has even deeper value as you engage in the community and shared learning opportunities available through the CSIP. Your school leadership team should all understand the value of ACSI membership as an opportunity for engagement, learning and growth within the broader context of the global movement of Christian schools. If you are not yet registered with ACSI, go to
https://acsieurope.org/cms/en-us/membership/school-membership
Membership certificates are now digital and are accessible after login on the
membership page
. We will not be providing printed certificates after December 2022 unless you request them at an additional fee.
Updates to CSIP
We have modified the self-assessment process for this year so that each team can work together more efficiently. Each team member's response is now saved separately as they evaluate the indicators. Before signing the self-assessment, the team can review all the responses and negotiate the best value for each indicator on one screen. When this is confirmed, the team leader can sign and submit the assessment and view the report. You will not see the report unless you complete and sign it in the online platform.
It would be very helpful to
connect your own professional services
to the appropriate indicators in CSIP. This will help you identify your own school's needs based on our common terminology within our community of Christian schools. When you set a strategic goal for your school, include the related CSIP indicators as a part of that goal. When you participate in or provide professional development, build a common purpose for learning through the use of CSIP indicators. When you talk with other school leaders, connect their concerns and goals to the ongoing process of school improvement shared in the CSIP community. You can always view the full list of connected professional services from ACSI and our partners at
https://acsieu.org/csip/?page=e
Celebrating our growth and learning
always has huge value both for students and for teachers. There are 2 ways to record this growth in CSIP. First, when a strategic goal is set, progress toward that goal can be recorded and shared for a specific list of users. Secondly, an activity reporting tab is available on the Professional Services page where each person can add and comment on their learning progress. The school report option on this page includes the learning record of your whole team and allows everyone to learn from each other!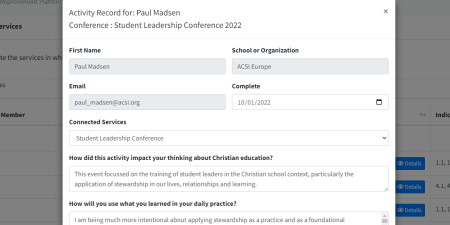 Please save the date for our first CSIP Academy! This will take place in early March of 2023 and focus on key elements of Standards 1,2, 3 and 4 with deeply practical applications in a collaborative environment for school leaders. The goal is to use each element of CSIP to build understanding, accountability, community and vision for quality Christ-centered education.
The ACSI Europe team continues to monitor the use of the Platform as we connect with individual schools who have made use of the self-assessment in the last year. We view this process as a shared responsibility with our partner organizations and, because of this, we will share our insights periodically with these partners. This will help each of us to plan our services and events even better in the coming year as we use the quality input from our member schools.
We believe strongly that this tool is a result of much prayer and a growing vision for quality, Christ-centered education here in Europe. We are so thankful for your vital role in this ministry and allowing our ACSI team to partner with you in your efforts for God's glory.
---
The ACSI Christian School Improvement Platform is a community where ACSI member schools can engage in self-assessment, define strategic goals and contribute to strategic development in partnership with other schools as they implement a Christian vision of education.