The International Educational Leadership Conference
March 2-5, 2022, Hungary

The International Educational Leadership Conference brings together Christian school leaders for strategic collaboration and inspiration from across Europe and beyond. Our theme for this event is "Leading for Stronger Communities - The role of the Christian school leader in challenging times". ACSI Europe has hosted the IELC since 2015 for participants from more than 40 countries and we are blessed to be able to partner with you for the promotion of quality Christ-centered education around the world.
Keynote Speakers will be introduced soon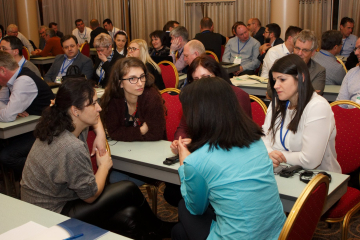 Conference Location: Budapest, Hungary
Our conference venue will include hotel options as well as meals for participants who attend the live event.
Both live and virtual participation will be enhanced through our Moodle platform, providing conference materials, links to live sessions and workshops, group discussions and networking tools.
Conference Goals:
Inspire a shared vision for Christian education globally
Encourage fellowship among Christian school leaders
Encourage developing partnerships for Christian schools
Enhance leadership skills through plenary and workshop sessions
Program Details:
This conference will highlight keynote speakers from various regions.
Workshops will be available, presented by highly experienced and qualified educators working in Christian school settings.
The schedule for the live event incorporates a significant time for networking between schools and schools will be provided a small display area for initiating contacts and partnerships.
A draft schedule will be available soon.

We provide simultaneous translation in selected languages during the main sessions and the super seminars after evaluating the participant needs. If you do not speak English, you will need to provide your own translator for networking and other sessions.
The ACSI Europe Christian School Improvement Platform (CSIP)
ACSI is committed to supporting excellence in both academics and spirituality for Christian schools. All schools in Europe are accredited by their country's educational agencies to secure physical and academic standards, however, there has been no way to assess and strengthen their Christian distinctives across our diverse language, educational and cultural settings.
As a response to this need, ACSI Europe has developed a multi-lingual tool to build school communities through identifying strengths and weaknesses in a setting of strategic professional support between member schools and partner organizations. Our goal is to increase the effectiveness of Christian schools as each one shares and implements their vision throughout their teaching and learning communities. You can read more about CSIP here.

School Partnership Development:
Conference Costs:
Note that conference prices do not include accommodation. We will provide a link to discounted prices at the conference hotel where you may reserve your preferred room type. You may also select from other local accommodation options. Prices for double rooms start at 40 € per night per person. Prices for single rooms start at 70 € per night. Breakfast is included with hotel accommodations.
| | without ACSI membership | ACSI Europe members Western region, US and international schools | ACSI schools - central Europe (HU, RO, CZ, PL, SK, UA, etc.) |
| --- | --- | --- | --- |
| Cost for the in-person event, no lodging included | 350 EUR / person | 250 EUR / person | 170 EUR* / person |
| Cost for virtual attendance | 140 EUR / person | 100 EUR / person | 40 EUR* / person |
* These participants receive a scholarship to help cover the costs of this conference.
All registrations include 1 dinner, 2 lunches, 5 coffee breaks, access to main sessions, workshops, translation options, conference materials, the digital conference resources and networking.
Virtual attendance is available for those unable to travel and will include online group discussions, digital conference resources and networking access with live streaming for all main sessions and super seminars. No translation will be available.
A 5% discount is available for groups of 5 or more participants from the same school. Please request this at registration.
Payment and Cancellation Policy:
All conference fees must be paid by January 14, 2022.
Payment can be made by credit card or bank transfer after completing the registration process.
Refund and cancellation policies will be available soon.
If the live event must be cancelled due to Hungarian travel restrictions or hotel closure, IELC will be moved to an online event and the corresponding prices will apply.