The CSIP Academy is a collaborative, professional experience to encourage and support school leaders as they work to implement a clear vision for Christian education. This program is structured around four key areas of school improvement for Christian schools. Each session will include an overview of the key topic, followed by a collaborative workshop session. Participants will be able to select a workshop for each session based on which element of the key topic they wish to explore further. The workshop sessions will involve time for discussion, reflection, sharing best practices and planning meaningful implementation steps for their own school context.
Registration is closed
Please confirm your participation as soon as possible with your payment. Hotel reservations must be made separately.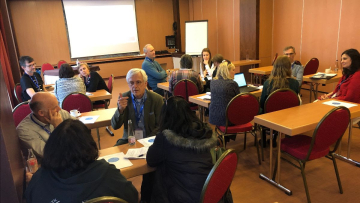 Program Goals:
Build connections between school leaders for mutual support
Encourage a meaningful engagement with the process of school improvement through CSIP
Develop new depth of understanding and application using quality standards for Christian schools
Inspire school leaders with space for prayer, reflection and planning
Program Details:
The event begins with lunch on Wednesday and ends with lunch on Friday. It is a working conference which allows for deep reflection and discussion of ideas with your school leadership team and with leaders from other schools about guiding the process of school improvement.
The program consists of several sessions. Each session involves:
A helpful and practical presentation on the process of self-assessment and school improvement for the effective implementation of a Christian vision for education.
A choice of workshops after each presentation will give you opportunities to learn and grow with your team and other leaders. These sessions involve facilitated collaboration and reflection where each participant develops an action step related to the topic or focus area.
Please note that discussions during the event will be facilitated in English to build community and interaction. Translation is not provided.
A more detailed schedule is available here.
Introduction - Inspiring School Improvement
Session 1: Philosophy and Foundations of the Christian School
- followed by group discussion/application in 1 of 2 workshop options
Session 2: Leadership and Personnel in the Christian School
- followed by group discussion/application in 1 of 2 workshop options
Session 3: Teaching and Learning in the Christian School
- followed by group discussion/application in 1 of 2 workshop options
Session 4: Spiritual Formation in the Christian School
- followed by group discussion/application in 1 of 2 workshop options
Session 5: Enriching the Ongoing School Improvement Process
Who should come to INSPIRE?
Head of School
Instructional and Operational Leaders
Emerging Leaders (e.g. Senior teachers, assistant principals, team leaders)
Board/Governance Members
Quotes from participants who attended March 2023:
I'm so thankful for ... tools like CSIP and events like INSPIRE to provide practical help and encouragement to schools.
I'm very impressed by the work of ACSI and the intentional effort to help schools grow and improve. This gets me even more excited about Christian education as a whole. I am very encouraged by this conference.
The Christian School Improvement Platform (CSIP)
ACSI Europe has developed a multi-lingual tool to support school communities through identifying strengths and weaknesses in a setting of strategic professional support between member schools and partner organizations. Our goal is to increase the effectiveness of Christian schools as each one shares and implements their vision throughout their teaching and learning communities. You can read more about CSIP here.
Location: Budapest, Hungary
Our conference venue includes hotel options as well as meals for participants.
Please book your own lodging based on your preferences at Hotel Benczúr hotelbenczur.hu/en
Be sure to inform the hotel that you are attending the ACSI event to receive your discount. Use the hotel reservation form or contact the hotel.
You may also select from other local accommodation options.
Costs:
Note that prices do not include accommodation.
If you attended the March INSPIRE, your conference fees can be applied as credit toward this event. You can also pass this credit to another leader in your school.
| | ACSI Europe members Western region | ACSI schools - central Europe (HU, RO, CZ, PL, SK, UA) plus FR, CH and BE |
| --- | --- | --- |
| Cost per person, no lodging included | 250 EUR / person | * 170 EUR / person |
* These participants receive a scholarship to help cover the costs of this event.
All registrations include 2 dinner, 3 lunches, 5 coffee breaks, access to main sessions, workshops, materials, the digital resources and networking and access to the CSIP.
A 10% discount is available for groups of 3 or more participants from schools with less than 500 students, 5 or more participants from larger schools. Please request this at registration.
Payment and Cancellation Policy:
Payment can be made by credit card or bank transfer after completing the registration process.
No refunds or cancellations after September 15.
Updated on Oct 9, 2023