Course offering - Leadership Conversations
Our conversations begin on January 27 in our Moodle platform. Register below.
Course Summary:
Discussing leadership ideas must connect us to changes in our attitudes, conversations and behavior. We invite high school or university students from our member schools, especially those who have attended (or will attend) our Student Leadership Conference, to join these conversations.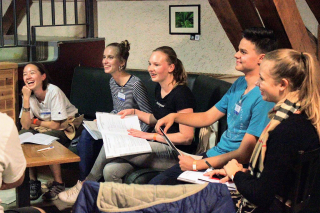 Course Format: online at: https://acsieu.org/moodle
Course Language: English
Design of Course:
We provide various types of content for each of the 7 topics including video, ppt and article type information. The topics are: defining leadership, calling, character, intimacy, vision, priorities, and communication. There is 1 new topic each week and any of these can be given more time depending on what is important to you. After working through the ideas for each topic, there is a personal evaluation/reflection tool and questions for discussion either online (in the forum) and/or in a small group with those at your school. We encourage you to use the forum discussions as a way to connect with students from different participating schools. Please contact Paul for more details or questions.
Time frame and requirements: about 2 hours per week for 8 weeks.
The course is run in an asynchronous environment which allows great flexibility for the participants.
A basic level of English is needed but translation tools can help with the reading and writing tasks.
Each student should commit to finishing the course and engaging with the other participants.
We also suggest that students name a teacher who can help them process and apply what they learn.
Participation requirements and costs:
There is no cost for students participating from ACSI member schools. This course is not currently available to non-member schools.
These student leadership conversations will help to:
Give you a place to discuss Biblical leadership with other youth who are also growing in this area
Set a course for developing your God-given gifts and using your influence to shape your school or community
Provide a foundation for understanding who God has made you and His unique calling on your life to serve and lead
Connect you to what God is doing with other people in other schools and countries
Encourage you to form a group in your own school to discuss and apply what you are learning about leadership
Challenge you to communicate what you are learning, which is an essential part of leadership and team building