Our 19th annual Student Leadership Conference will focus on the theme: "Leading with Wisdom". This year will have a variety of speakers for the main sessions, excellent workshops for students and chaperones, student activities, school-to-school interaction time and times for school debriefing along with great fun and fellowship every day. We are looking forward to meeting your students on September 27th. This year we expect 375 total participants from 42 schools and 18 countries! You can download our SLC Brochure for more information.
The conference begins with registration on Wednesday, September 27 from 2:00-5:00 pm. Dinner begins at 5:00 pm followed by the evening program and activities. The conference will end with the evening session on Friday, September 29. Be sure to register by June 15 to receive the early registration discount. Registration ends on September 9.
Student Selection: It is very important to begin your student selection well in advance. Please consider now how this will be done so that it most benefits your students and your school as a whole. The graduated pricing serves to encourage schools to think about selecting students early so that they will be better prepared for this event. We have many ideas for helping you prepare your students for SLC, many of which are available in the document "SLC Preparation Guide". We want each student to get the most out of this event, which can only happen with your excellent support, teaching and prayers. NOTE: We require contact information for student discussion leaders because they must participate in a short online training course BEFORE the conference (more information available in the Preparation Guide).
You must have an active school membership code or a special invitation to register.
Be sure to see our live SLC feeds at: acsieurope.org/slc
Graduated registration pricing:
- 5% DISCOUNT for early registrations from May 1 to June 15
- The STANDARD registration price from June 16 to August 25
- 20% price INCREASE for registrations beginning August 26
- NO registrations after September 9
Cost per person:
- 135 Euro in a 6-8 bed room
- 145 Euro in a 3-4 bed room (quad rooms are split doubles with a shared bathroom)
- 155 Euro in a double room (for chaperones only)
*Partial scholarships are available for some ACSI schools of central and eastern Europe.
A round-trip bus service will be available (50€/person). *Please reserve bus service on the 2nd page of the registration form.*
Chartered busses will leave from Népliget metro station in Budapest at 2 pm and from the Liszt Ferenc Airport at 1 pm on WEDNESDAY. Return busses to Budapest are by RESERVATION ONLY.

There are good options for regional train service to the conference location. See elvira.mav-start.hu/
Cancellation Policy:
August 26 - Sept. 9: 50% refund
from Sept. 9: 20% refund only for schools paying full price
from Sept. 9: NO refund for schools receiving scholarships
No show: No refund and no scholarship/discount eligibility next year
Conference Preparation Downloads:
The Keynote Speakers include Brad Belcher, Laci Demeter and Paul Madsen.
Brad grew up in central Illinois and graduated from Taylor University with a BS in Mathematics and Secondary Education in 1985. That same year he married Kathy and God has blessed them with many education, business and ministry related opportunities in the US and Hungary. He has served as a pastor of several churches since his call to the ministry in 1997 and currently serves in this role at Bethel Community Church in Chicago, Illinois. In 2008 Brad completed his MA in Christian Thought/Philosophy of Religion at TEDS. He is now working on his Doctor of Ministry degree and loves spending time with his wife, Kathy, his 3 daughters and 1 son-in-law.
Laci is passionate about identifying, equipping, and empowering young leaders to reach their full potential in life, that is, to fulfil their God-given calling. Laci holds three university degrees: MSc in Engineering, MA in teaching EFL, and MEd in Christian school education. He is currently working on his PhD degree in Christian school leadership through Columbia International University. Laci has been with ACSI Europe since 1995, and has served in various positions. He was appointed as Regional Director in 2011. Laci and Rita are blessed with six children, who provide unlimited educational anecdotes for his teachings.
Paul is passionate about developing cross-cultural ministry relationships which will impact young people and their understanding of God's call on their lives. He completed studies in Bible/Theology and Music from Vennard College and a Master of Music Education degree from the Univ. of Nebraska. In 2012, after 14 years of teaching at ECA in Spain, Paul and Ellie moved to Hungary with their 2 boys. Paul develops professional resources, provides training for both teachers and students and directs the annual Student Leadership Conference.
For school planning purposes:
Location: SLC takes place at a youth and conference center on the north bank of Lake Balaton. This allows us to serve many schools and participants in a beautiful and comfortable setting about 2 hours from the Budapest airport.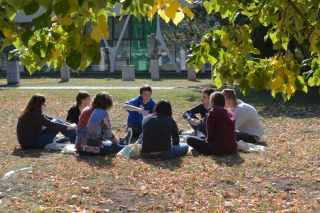 Transportation to the conference site is available by public bus or train from Budapest with stops right at the entrance of the camp. We also contract charter buses to transport groups from the airport or Népliget Metro for an extra fee.

On-line registration: SLC registration is available on our website beginning May 1st. Please use your school's membership code (sent to your school's e-mail) to begin the registration process. If you have registered for an ACSI Europe conference or SLC on-line already, you can sign in with your e-mail and then start the SLC registration with your school and personal information already on the form. The cost of the conference includes housing for 3 nights, all meals from Wednesday evening through Saturday breakfast, activities, snacks and conference fees.
At SLC we want to:
- Grow in our personal walk with Christ
- Identify our leadership skills and potentials
- Recognize God's call on our lives
- Develop our student action plan
- Strengthen our spiritual support network
- Strengthen our Christian schools
- Encourage our commitment to love and serve God