Please confirm your participation as soon as possible with your payment. Hotel reservations must be made separately.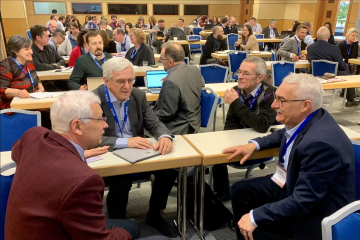 Theme: Anchors of Hope for Christian Education
The storms of culture, politics, economies and ideas require us to be anchored to what is unmovable. What elements of Christian Education should be strengthened to anchor Christian schools and students in God's Word and His Truth? IELC 2024 will provide opportunities to investigate and discuss these anchors of hope together, praying for God's grace and looking to Him for guidance.
This event will also include a special celebration for ACSI Europe's 30 years of service to Christian schools, remembering God's goodness and asking for His leading in the coming years.
The International Educational Leadership Conference brings together Christian school leaders for strategic collaboration and inspiration from across Europe and beyond. ACSI Europe has hosted the IELC since 2015 for participants from more than 40 countries and we are blessed to be able to partner with you for the promotion of quality Christ-centered education around the world.
Conference Goals:
Inspire a shared vision for Christian education globally
Encourage fellowship among Christian school leaders
Encourage developing partnerships for Christian schools
Enhance leadership skills through plenary and workshop sessions
Download the Draft Schedule here
Conference Location: Budapest, Hungary
Our conference venue will include hotel options as well as meals for participants.
Hotel venue: Please book your own lodging based on your preferences. Rooms at Mercure/Ibis Budapest Castle Hill will be available at special rates.

After January 20 we cannot guarantee available rooms or access to the special rate.

The preferential code will be included in your confirmation email with the hotel reservation links. The rates shown below are for 3 nights for Ibis and Mercure respectively.


Program Details:
This conference will highlight keynote speakers from various regions.
Workshops will be available, presented by highly experienced and qualified educators working in Christian school settings.
Various learning tracks will be offered to participants wanting to focus their attention on themes related to the opportunities for Christian education to address real and pressing challenges in our post-truth culture.
We provide simultaneous translation in selected languages during the main sessions and the super seminars after evaluating the participant needs. If you do not speak English, you will need to provide your own translator for networking and other sessions.
Workshops
The conference organizing committee will select the workshops for the conference from the submitted proposals. Workshop Proposal Deadline January 15, 2024. Workshop Proposal Form
Workshop Titles and Descriptions:
All workshops must fit within the conference theme and be related to the opportunities for Christian education to address real and pressing challenges in our post-truth culture (e.g. artificial intelligence in education, sexual and gender identity confusion, biblical leadership, teacher training)
Please make your titles and descriptions "attention getting" and informative.
Many of the conference participants will be non-native English speakers but workshops must be presented in English.
Keynote Speakers: TBA
The ACSI Europe Christian School Improvement Platform (CSIP)
ACSI is committed to supporting excellence in both academics and spiritual formation for Christian schools. ACSI Europe has developed a multi-lingual tool to build school communities through identifying strengths and weaknesses in a setting of strategic professional support between member schools and partner organizations. Your use of this platform as a member school will further enable you to build meaningful partnerships through your connections at IELC that best support the needs of your school community. You can read more about CSIP here.
Conference Booths and Partnership Development:
Conference Costs:
Note that conference prices do not include accommodation. We will provide a link to discounted prices at the conference hotel where you may reserve your preferred room type in your confirmation email. You may also select from other local accommodation options.
| | without ACSI membership | ACSI Europe members Western region, US and international schools | ACSI schools - central Europe (HU, RO, CZ, PL, SK, UA, etc.) |
| --- | --- | --- | --- |
| Cost for the in-person event, no lodging included | 370 EUR / person | 270 EUR / person | 190 EUR* / person |
* This is a subsidized price for certain participants, which helps to cover the costs of this event.
All registrations include 2 dinners, 2 lunches, 4 coffee breaks, access to main sessions, workshops, translation options, conference materials, the digital conference resources and networking as well as a trial access to CSIP.
A 5% discount is available for groups of 5 or more participants from the same school. Please request this at registration. If you attended INSPIRE in March of 2023, the amount you paid for INSPIRE can be applied as a credit at this event.
Payment and Cancellation Policy:
Conference fees must be paid by January 30, 2024.
Payment can be made by credit card or bank transfer after completing the registration process.
Cancellations between January 30 and February 15 receive a 20% refund.
No refunds or cancellations after February 15.
---
Updated on Nov. 20, 2023