SLC 2021 - Конференция студенческого лидерства
We are currently planning a live (in-person) event this year. Please reserve space for your group as soon as possible as participation will be limited to 220 participants. We will promptly inform you of any changes or in the case that we must move to an online event due to travel restrictions.
Our desire is to serve your school through student leadership training. Therefore, we are planing a hybrid event for those who are unable to travel to SLC in person. It will be important to work with your student team now to prepare for whatever type of participation is possible for your school.
You will not be asked to pay for participation until we confirm which type of event will take place. Registration requirements are minimal, but you will need to provide a contact name and a potential number of participants with the option to edit this later. We will ask for more details by June 1st with names of student participants.
This is a unique event for secondary students at ACSI member schools, ages 13-18, from September 22-25! Group registration ends on September 6. Confirm your interest now using the form below!
SLC begins Wednesday afternoon and ends with breakfast on Saturday, giving students the opportunity to process and discuss the information in a relaxed setting where they can interact with Christian students from many backgrounds and cultures.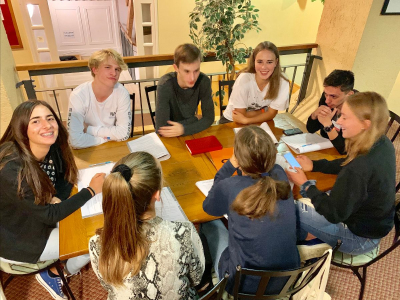 This is a unique opportunity for secondary students to grow in their faith and in their leadership skills, and to fellowship and worship together with like-minded young people from many nations. SLC includes several main sessions, workshops, student discussion groups and time for fellowship and interaction between students and adults in a beautiful and relaxed setting.
September 22-25, 2021 (ages 13-18)
- You must have an active ACSI school membership or a special invitation to register.
Program for 13-18 year old students:
We have an SLC program which ensures that the experience for each grade level is appropriate and of the best quality. Students from age 13-15 are provided with their own workshops and discussion groups designed specifically for their needs, introducing them to the foundations of biblical leadership and the character qualities on which to build. Students from age 16 and up have discussion groups and workshops specifically for their age group as well.
We also provide training for older students who want to work and lead activities and discussions with the younger students. High school students who want to serve as discussion group leaders for either age group must participate in a short online training course beginning in early September.
Student Selection:
It is very important to begin your student selection well in advance. Please consider now how this will be done so that it most benefits your students and your school as a whole.
The graduated pricing serves to encourage schools to think about selecting students early so that they will be better prepared for this event. We have many ideas for helping you prepare your students for SLC. We want each student to get the most out of this event, which can only happen with your excellent support, teaching and prayer. NOTE: We require contact information for student discussion leaders because they must participate in a short online training course BEFORE the conference.
Pricing and Registration:
- Register as soon as possible! We must be able to plan the event based on your availability.
- Registration prices are per person and will be posted here soon.
- Schools must register their group and provide details about each participant.
- Schools must provide 1 designated chaperone for every 10 student participants.
Conference Preparation Downloads:
Keynote Speaker to be announced soon.
At SLC we want to:
- Grow in our personal commitment to love and serve God
- Recognize and respond to God's call on our lives
- Develop the leadership skills that God has gifted us with
- Strengthen our spiritual support network